Office Relocation Checklist
Office Relocation Checklist
Packing up and moving to a new office can be a daunting task. We should know. We've recently moved into our new home about a year ago. Thankfully we've had the resources of a moving company and a well organized HR team to help us through. Not everyone has that convenience though, so we've made a checklist of some of our procedures to help you do that with our Office Relocation Checklist.
Select Move Captains
While not required, selecting captains for certain areas of your move is really helpful in organizing everything and making the move go more smoothly. Select as many as you think you need to cover the main areas of focus in getting your new office home in order. For our move, we selected our move captains to be our department heads. It was easy and made sense for us, but go with whatever works best for you.
Packaging & Labeling
Packaging and labeling your items and equipment is a must of course, but there is two ways you can go about it: be unorganized, or be organized. We hope you choose the latter 😉 Listed below are some ways we suggest you go about doing that when packaging and labeling your items.

Packaging
Using bags to hold IT equipment makes it easy to keep cords together and all of your computer stuff in one spot so you don't lose anything and try to guess what goes with what later on. We suggest keeping it to one or two bags per person and to only use for computer equipment.
Labeling & IDs
When labeling your office items, consider using a color code system with stickers to organize what gets kept, what get thrown out, etc. For example, we used red tags for
office furniture
that didn't make it to the new place and was up for grabs, green tags for pre-move items, and all yellow tagged items were moved to the new place. This also made it easy for people who wanted to take the red tagged items home, to be able to put their name on them to indicate they were spoken for and not to toss out. Whatever color you choose to go with for your label system, make sure you make it clear to your employees so there's no confusion! Another thing that is helpful to do is to add a location ID to each label with the area you want it to go to in your new place. Depending on if you go with a moving company or not and how they work, you may want to evaluate their packaging and labeling procedures while you scope them out.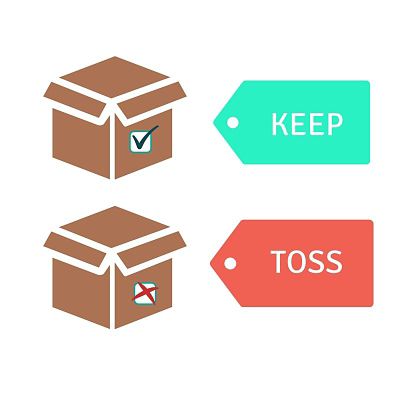 One Month Till Office Relocation Breakdown of Tasks
While we aren't able to cover in detail every step of our move, below is a 1-month-till-move high level breakdown of the tasks you can take a look at to help you prepare for your move:
3-4 Weeks Out
Get your employees to START PURGING – DO NOT WAIT! This is also a good time to select your move captains. Pre-move non-essential items such as extra desks, chairs, etc. This will help save time. As mentioned previously, we used a colored label specifically for pre-move items to easily distinguish them from the rest of the items.
1-2 Weeks Out
Begin putting stuff together in bags and adding onto moving carts.
Organize a meeting with individual teams on the move process and schedules for the move.
We hope these tips help you to organize your move a little better, or at the very least, uncover some things you may not have thought about!