Make Your Home Office a Sanctuary
Not every home office is going to be deemed "Pinterest-worthy", and honestly, that's quite alright. While we all want and should have a beautiful space to work in, it's absolutely vital that whatever area we are working in is enabling us to be productive. It can be easy to get caught in decorative details, but comfort should be the number one priority. How you feel in your home office is sure to directly impact how you work in your home office. Here are some tips for creating a home office that is a comfortable sanctuary where you can get work done.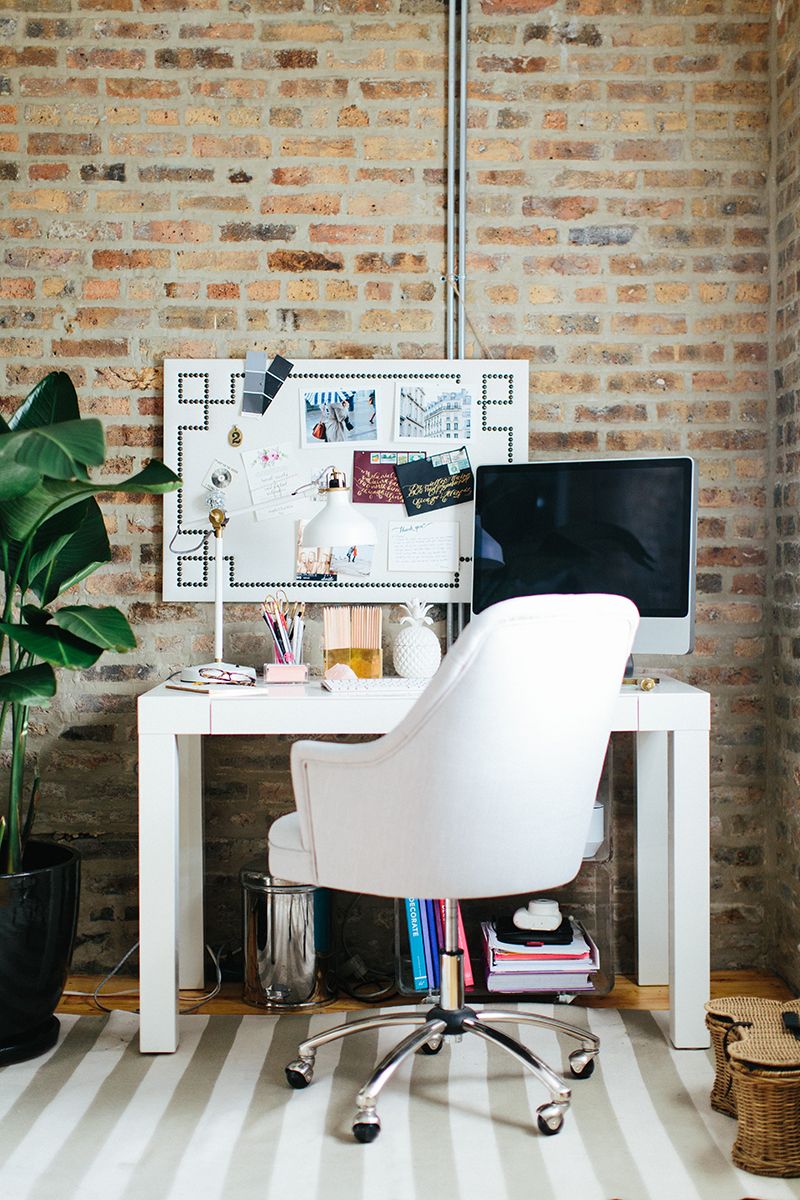 Image via the
Everygirl
.
Have Supportive Seating and an Adjustable Standing Desk
Yes, we consider this combination to be ideal when it comes to creating a true home office sanctuary. Even if you may not have much space, and your home office is technically a desk shoved against a wall in your living room, having both an ergonomic office chair and a standing height desk that you can adjust is possible, due to the numerous options available in all different sizes. Already have a desk? Simply add an adjustable monitor and keyboard option that allows you to stand or sit whenever your heart desires. Having such a set up not only ensures comfort as you can move around and work however works best, but it also promotes a healthy working lifestyle by encouraging movement.
Keep it Clean
Even if you sometimes feel you perform better with a more "lived-in" look, research shows that we mostly work better and feel better in clean environments. Additionally, a cleaner space reflects a more professional image and can also help you stay more organized and on top of your tasks. Here are some tips for keeping your desk surface in tip top shape. Need more organized drawers? Delve into our top tips about getting and keeping your drawers organized.
Have the Proper Lighting
Natural light is best, so whenever possible, try to position your desk in a way that you'll have lots of natural light or even select a room for your home office that has access to numerous windows. Natural light immediately helps you to be more productive and has been shown to be a mood booster. If you have limited access to natural light, be sure to consider overhead lighting and task lighting. Task lighting is usually incredibly important for office settings, as it's designed to sit on desk tops and support your eyes as you focus intently on the work in front of you.
Make it Yours
While you don't want to get hung up on every decorative detail, making your home office "yours" certainly goes a long way when it comes to creating an inspiring, yet comfortable space. Adding photos, artwork and maybe even a cute DIY project here and there will reflect your personality and make your office more of a true sanctuary for you. Having your favorite snacks on hand and perhaps your favorite music just a click away are other ways to make sure that your space truly reflects you and what you like to surround yourself with.
Incorporate Nature
Bringing the outdoors in is another way to make your home office a true sanctuary. Whether in the form of a small plant or a large salt water fish tank, nature has both a calming and restorative effect that can greatly impact your mood and productivity levels.